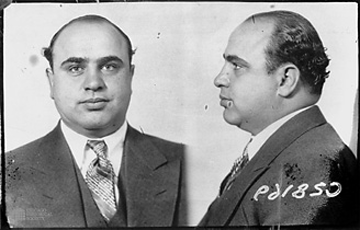 Mugshot of Alphonse Capone following his 1930 arrest on charges of tax evasion
Denial of Cert. by Supreme Court
Supreme Court of the United States
Alphonse CAPONE, petitioner,
v.
The UNITED STATES of America.
No. 891.
May 2, 1932
For opinion below, see 56 F.(2d) 927.
Messrs. Michael J. Ahern and Albert Fink, both of Chicago, Ill., and Frank K. Nebeker, of Washington, D. C., for petitioner.
Messrs. Thomas D. Thacher, Sol. Gen., of Washington, D. C., G. A. Youngquist, Asst. Atty. Gen., Sewall Key and John H. McEvers, Sp. Assts. to Atty. Gen., and Paul D. Miller and W. Marvin Smith, both of Washington, D. C., for the United States.
Petition for writ of certiorari to the United States Circuit Court of Appeals for the Seventh Circuit denied.