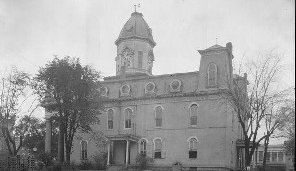 Callaway County Courthouse in Fulton, Missouri
Virginia Wainscott, being sworn, attests as follows:
I am a daughter of Robert Newsom. I was living at his house. I saw him the last time on the evening of the 23rd of June at bedtime. I hunted on all of the paths and walks and every place for him, the next day, looked in caves and along the creeks. This was on Sunday. I found no trace of him. That evening I learned where the bones were put. I found the bones under the hearth in the cabin, turned the longer stove over to find them. I found a gollows-buckle in the ashes. I have more bones in a box which I kept myself. I found the bones in the house where Celia lived. I found them under the hearth and just put them on the bureau until the next day. I gave them to my brother after the inquest. He took the bones home. I found the bones under the hearth rock. These are the bones and these are the buttons my sister sewed on my father's britches a fee days before his death. I found them out in the cabin, in the ashes. Sister Mary sewed metal buttons on his pants. I also found the knife. I did not see it. This is the box I kept. This is Father's knife, the handle on it is burned black, but this is the knife. Ashes were caked on top in the fireplace. I broke the heaps open and they had a strange smell. It looked as though something had been burned in there. I saw no flesh, nothing like flesh. The ashes were caked up in the fireplace. Celia had been sick and had not taken the ashes out for a long time.
Cross-examined by the defense:
The cabin I about 60 steps from the house. I saw my father in the evening about twilight, reading at a window. We all went to bed, leaving him in that room. He slept in the room he was reading in. My son slept with the old man, my son was there in the morning. I did not notice what father was wearing, did not notice the bed. Sister made the bed up and went to bed early. Celia had been sick. Took sick in February and had been sick ever since. She had not been able to cook since February. The cook-house joins the dwelling house.