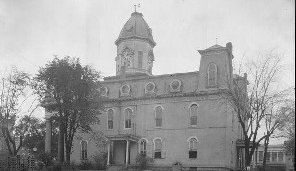 Callaway County Courthouse in Fulton, Missouri
Coffee Wainscott, being sworn in, attests as follows:
I am eleven years old. Was living in grandpa's house when he died. I was up in the cherry tree early in the morning grandpa was missing. Celia said she would give me two dozen walnuts if I would carry the ashes out. I said good lick. I put them along the side of the path. I do not know whether there was any path there or not - only beat down like. I did not show where I put the ashes. I saw people picking up bones out of the ashes. I got the ashes out of the house she lived in.
Cross-examined by the defense
I slept with my mother, Billy slept with Grandpa. I didn't go to bed in the same room with Grandfather. Billy is my brother. Billy is four years old.