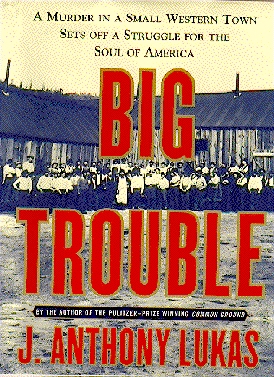 Reviews of Big Trouble (Simon & Schuster, 1997):
Jonathan Yardley, Washington Post: "Big Trouble" is a book so big and encouraging that it confounds description.... Because [Lukas] was the most assiduous researcher imaginable, it takes many sidetracks. Be patient, stick with it, give it the time it needs."
Jeff Baker, Portland Oregonian: "Lukas found a story that would support his theme of class conflict, and he latched onto it with his typical tenacity.... There are too many extraneous facts piled in too thick and too many loony, pointless digressions that take away from the inherent drama of the murder and the trial."
Walter, Kirn, Time Magazine: "Big Trouble" strives to do more than just re-create the trial; it tries to hoist a whole world onto its shoulders - people, landscapes, buildings, ideas, and all....What Lukas relished about his story wasn't its intricate political subtleties but its moments of Wild West theatricality."
Robert Sherrill, Chicago Sun-Times: "According to his literary agent, [before his suicide Lukas] 'convinced himself that the book was not good enough, which was crazy because it was brilliant.' She's right...Lukas has held a panoramic mirror to one of the most colorful and contentious eras of our past..."
James Green, Boston Globe: "Though the author failed to explain the complexities of class identity, he succeeded in other ways. We didn't need Anthony Lukas to be a social theorist. We needed him to be what he was: a gifted storyteller, a superb reporter, and a brillliant illuminator."
Allen Brinkley, The New Republic: "The events that Lukas so clearly and compellingly describes in this book make clear how fiercely the passions of class hatred have sometimes burned in our national past. It is a story appropriate for our present moment, as the nation struggles again with rising inequality and as the labor movement fights to restore its place in American life. And it is a fitting legacy for a brilliant writer who loved to tell stories, but who believed that those stories should tell us some thing important about ourselves."
[See also a biography of J. Anthony Lukas in the trial biography section.]