Peltier fight pains and angers FBI's O'Hara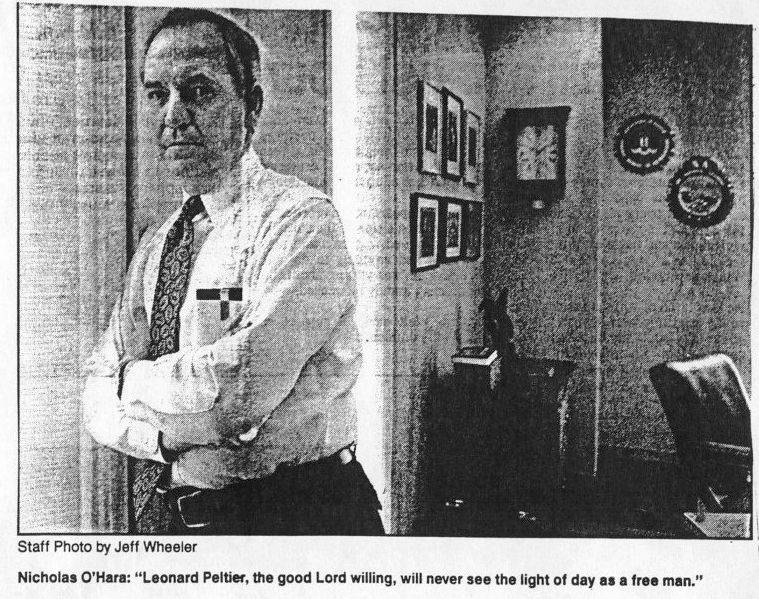 By Chuck Haga
Staff Writer
(Minneapolis Star Tribune, February 1993)
Sympathy for Leonard Peltier, the AIM figure convicted of killing 2 FBI agents, is misplaced, and the cause misrepresents the FBI and the truth, says the man in charge of the agency's Minneapolis office.
At the end of a long newspaper interview last week, Nicholas O'Hara walked behind his desk and reached for a packet of photographs.
"I want you to see some pictures," he said.
O'Hara, special agent in charge of the Minneapolis division of the FBI, showed the color photographs one by one, 17 ½-year-old pictures of two young agents who had been shot to death.
"Here's the hand," he said, pausing over one photo. "That's what happened when Ron Williams put his hand up. He described how the point-blank shot that killed Williams went through his outstretched hand and took off the back of his head.
If people only knew the facts. O'Hara had been saying for two hours . . . if they saw the pictures . . . they would not rally to this man, this cause, Leonard Peltier.
The struggle for hearts and minds – yours – began as soon as FBI agents Williams and Jack Coler died in a shootout with members of the American Indian Movement (AIM) on June 26, 1975, on the Pine Ridge Indian Reservation in South Dakota.
They were executed - - - or they were killed in self-defense. It was a crime, cold-blooded murder . . . or one battle in the new Indian wards. Leonard Peltier is a thug - - - or the Crazy Horse of his generation.
Convicted of the murders in 1977 and sentenced to two consecutive life terms Peltier has become, to many, the American Nelson Mandela: a political prisoner, a leader of his people who was targeted, provoked and put away by a racist government.
His latest appeal for a new trial was argued before the 9th U.S. Circuit Court of Appeals in St. Paul last month.
In the years since his conviction, Peltier has told his story to Robert Redford, "60 Minutes" and sympathetic delegations from foreign governments. His right to a new trail has been championed by Ramsey Clark, a former U.S. attorney general.
There have been movies, a 600-page book, rallies and demonstrations. Spain's Human Rights Commission gave Peltier an award.
As the 48-year-old Ojibwa-Sioux from North Dakota waits in prison for word on his latest appeal, O'Hara - clearly dismayed by the course of the public relations war – has invited an unusual measure of public attention to insist that Peltier is guilty, "a mad dog" who should never be released.
The FBI chief led 60 agents and sheriff's deputies into a Minneapolis City Council hearing last month to oppose a motion supporting a new trial. The motion was stopped.
When defense attorney William Kunstler denounced the law officers' action as "intimidation" in an opinion article for the Star Tribune, O'Hara wrote a response. He has invited interviews and written letters to newspapers in three states to correct "misrepresentations" of what happened that summer day in 1975.
Bruce Ellison, an attorney in Rapid City, S.D., and a member of Peltier's defense team, called O'Hara's actions inappropriate. "This is a public relations job," Ellison said. "Lobbying is not one of the functions of the FBI.
"I think the government is concerned," he said. "On a national scale, there is so much more awareness now of the Peltier case. I've had prosecutors, other attorneys, people in the business community just coming up and saying, 'It seems to me it's time this guy got a new trial.' "
O'Hara said it's part of his responsibilities to counter "this onslaught of Hollywood misrepresentation of this case," much of which tarnishes the bureau's reputation.
"I would like to let Jack and Ron rest in peace," he said. "I would like to move on. But I am kept from doing that by all this material that challenges the integrity of our judicial system . . . this sense that we don't play fair, that we hide evidence, that we pressure or mistreat witnesses.
"Leonard Peltier, the good Lord willing, will never see the light of day as a free man."
Symbol of a violent history
For the government, it has always been a straightforward case: good guys, bad guys, a capital crime.
Peltier's defenders start from another world.
In his 1983 book, "In the Spirit of Crazy Horse," Peter Matthiessen argued that the shootout had to be seen in the larger context of American Indian history, including the recent violent history of Pine Ridge.
"Whatever the nature and degree of his participation at Oglala," Matthiessen wrote, "the ruthless persecution of Leonard Peltier had less to do with his own actions than with the underlying issues of history, racism, and economics, in particular Indian sovereignty claims and growing opposition to massive energy development on treaty lands and the dwindling reservations."
AIM's leaders came primarily from urban Indian populations in Minneapolis and other cities, but in the armed takeover at Wounded Knee in 1973 and in other Pine Ridge conflicts, they sided with rural, "traditional" Indians against "progressive" tribal officials who cooperated with federal agencies, including the FBI.
A government position paper issued during the Wounded Knee takeover, cited by Matthiessen, called AIM "a revolutionary Indian element . . . They are not representatives of the Indian population at large, are criminally oriented, and must be stopped by criminal prosecution."
"It's like the old days," AIM leader Russell Means told Matthiessen, "except now they call us 'militants' instead of 'hostiles' or 'renegades.' "
Why did agents Coler and Williams drive onto the property of Harry and Cecilia Jumping Bull, a few miles southwest of Oglala, where several members of AIM had a camp?
According to the government, they were looking for a young man wanted for theft and assault. They followed a vehicle onto the property, believing that the man, Jimmy Eagle was in it.
According to Peltier's defense, the search for Eagle was a pretext. The FBI wanted to provoke a confrontation with Peltier.
Would two agents, their rifles still in their trunks, pick a fight with an armed camp, O'Hara asks?
The agents expected massive backup, Peltier's defenders reply. How else can the huge, rapid response to the shootings be explained?
The trial and appeals records are a muck of confusing disputation: the severity of Eagle's alleged offense, the make and color of the vehicle, who shot first, who saw what. Several key witnesses changed their testimony. Others died or disappeared. Each side has accused the other of witness intimidation and hinted at worse.
The shooting began at long range. Indians who participated said later that they didn't know who the agents were, and they fired in self-defense.
"Peltier knew who the agents were," the government said in a brief filed in the recent appeal. "He believed they were there to arrest him on an outstanding attempted-murder warrant."
The agents were surrounded and soon wounded. According to the government, Peltier and two other men approached the agents, who were shot in the head at close range.
According to the government, testimony established that Peltier and AIM members Dino Butler and Bob Robideau were the men who walked up to the downed agents. But some of that testimony, given to a grand jury, was later recanted.
Peltier, Butler and Robideau were indicted for the slayings. Robideau and Butler were tried in Des Moines in 1976. They were acquitted, partly because jurors said they accepted the self-defense theory and the characterization of Pine Ridge as a war zone. The government says the acquittal had more to do with the absence of some witnesses "hidden" by friends of the defendants.
A controversial extradition
Peltier, captured in Canada, was extradited largely on the basis of an affidavit that became one of the case's most controversial pieces.
A woman named Myrtle Poor Bear had told the FBI that she accompanied Peltier to Oglala in May 1975 and heard him plan to kill FBI agents or other law officers who came into the area. In a second affidavit, she expanded her story and said she was present at the shootout.
"I saw Leonard Peltier shoot the FBI agents." She said in the second affidavit.
But Myrtle Poor Bear never appeared as a government witness. She repudiated her statement before Peltier's trial in Fargo, N.D., and in the Redford documentary she said the FBI had coerced her into making it.
O'Hara said the coercion came from the other side, confusing and frightening an already befuddled woman.
"So much pressure was brought on her by Peltier supporters that she lost her credibility as a witness," he said. "But at the time they were used as part of the extradition, we still believed they were credible statements. They say we used false, phone documents to mislead the Canadian government. Never happened."
While Canadian authorities complained at Peltier's appeal that their government was misled, O'Hara said there was sufficient other evidence to warrant Peltier's return. And if the Canadians had been recalcitrant, he said, it would have been appropriate for U. S. authorities to kidnap him.
"If the case was right, and it was a monumental case, as this was, you would consider that," he said.
In 1990, a Mexican doctor wanted in connection with the torture death of a U.S. drug agent was kidnapped in Mexico by bounty hunters and delivered to the Drug Enforcement Administration in El Paso, Texas.
Last June, the U.S. Supreme Court upheld the right of the government to arrest foreigners abroad without following extradition treaties. The ruling caused outrage in other nations.
"You'd risk that kind of international criticism if you're after somebody who murdered two of your agents," O'Hara said.
There are other major points of contention, including ballistics reports used to connect Peltier with the murder weapon.
The badly damaged AR-15 rifle was recovered from a car that was carrying Robideau and other fleeing AIM members when it caught on fire and exploded on the Kansas Turnpike.
Witnesses connected the AR-15 to Peltier. The defense challenged some of that testimony as inconsistent.
According to testimony at trial, initial tests at the FBI lab could not link the weapon with a shell casing found near the agents' bodies because of damage to the rifle's firing pin. In a later test, however, in which the bolt from the damaged AR-15 was put in another rifle, there was a match with extractor marks on the casings.
But according to defense attorney Ellison, the FBI lab expert did do a firing pin test, and the results "eliminated that weapon" as having fired the fatal bullets. The defense obtained a copy of an FBI teletype detailing that report in 1984 through the Freedom of Information Act, and it has cited the discrepancy in its appeals for a new trial.
"The teletype says very clearly that there was no match." Ellison said. "The two explanations are totally in conflict."
O'Hara said the lab expert simply "wrote a sloppy report," stating there was no match when he meant to say the firing-pin test couldn't be made.
Ellison snorted at that explanation. The FBI lab "has a very solid reputation" for precise reports, he said.
Finally, the defense notes that the government has admitted it can't prove that Peltier was the man who fired the fatal, close-range shots. The government says it didn't have to; Peltier, the leader of the AIM encampment was at least guilty of "aiding and abetting" the murders.
The defense says it should have a chance to defend against that charge. The prosecution counters that it did – at the Fargo trial.
FBI still shaken by deaths
On June 26, 1975, O'Hara was working at FBI headquarters in Washington, D.C., when the teletype rattled out news of a shooting on the Pine Ridge Indian Reservation. Two agents were involved.
"Late in the afternoon, it was confirmed that they were killed," O'Hara said, "Everybody in that section worked all night. We worked the next couple of days to make sure the agents in the field got everything they needed to pursue their investigation.
"It's a large family . . . When you hear that [an agent] has been killed, it really has an effect on our outfit."
O'Hara is from Madison, a small town in eastern South Dakota. "So it had special meaning for me," he said. "That's my home territory. I played ball again kids from Flandreau [a reservation near the Minnesota border] in high school. I've visited nearly all those areas" in the western part of the state.
"I knew about the American Indian Movement out there, how radical they had become. I knew they were a very determined bunch of individuals, some very violent. It was an out-of-control, criminal organization that wanted violent confrontation with state, local and federal agencies. And that's what they got."
The movement disintegrated when many of its leaders went to prison or were driven underground, but it has revived. While some AIM leaders are "still involved in activity that borders on violence," O'Hara said, the movement seems to be "more involved now in real issues of heritage, language and culture. I see that as a very positive thing."
The effort to free Peltier is another matter.
There's a story that goes out on an almost continuous basis that's just not right." O'Hara said. "It paints our agency as reckless and irresponsible, hiding information, misrepresenting facts. And it paints Leonard Peltier as a political prisoner . . . unjustly arrested and unfairly tried.
"You can only sit and take that kind of nonsense so long."
The "Free Peltier" campaign gained momentum last year from two films that raised questions about the shootout and the subsequent investigation and trials.
"Thunderheart," a dramatized feature film, was based on conflict at Pine Ridge between traditional Indians - defended by a warrior society modeled after AIM – and a corrupt tribal administration allied with a devious, manipulative FBI.
"'Thunderheart' portrays federal investigators in a very unfavorable light," O'Hara said. "It's one of the dumbest things I've ever seen, an outrageous portrayal of how we do business."
The second film, a feature-length documentary produced and narrated by actor Robert Redford, was based largely on Matthiessen's book.
O'Hara watched "Thunderheart" in a theater, but he rented "Incident at Oglala" and watched it at home. He thought audiences at local screenings of the documentary were likely to be sympathetic to Peltier.
"I didn't want to go down in that environment . . . a group meeting like that where they might see me as somebody who shouldn't be there," he said.
A Start Tribune review of "Incident at Oglala" last summer called it "a powerful, involving testament" that "raises a lot of questions." O'Hara calls it "pure fiction."
He started to read Matthiessen's book, "but it was such a bunch of nonsense I couldn't finish it," he said. "It just wasn't worth finishing."
Distribution of the book was delayed for seven years by libel suits brought by former South Dakota Gov. William Janklow and by FBI Special Agent David Price, who still works in the Minneapolis division. Both suits ultimately were dismissed.
Ellison, who has represented AIM members since 1975, said O'Hara is the wrong man to complain about deception.
"If anybody is doing a disinformation campaign, it's what he's doing now," Ellison said. "They have been lying about this case and the events that led up to the firefight since before the firefight happened.
"Hopefully, all the new interest in this case will help the (appeals) court to feel comfortable in deciding to grant a new trial, where all this can be laid to rest."
If Peltier does not receive a new trial, advocates will press for U.S. Senate hearings, a presidential pardon or an independent commission, Ellison said.
"I am convinced that Leonard Peltier is innocent," he said.
A time for healing?
O'Hara tried recently to contact Ellison.

"I saw somewhere that he said something about it being time for healing," O'Hara said. "I'm for that."
He called twice, but the attorney didn't return his calls.
"I've been busy," Ellison said. "And what can I say to this man? He's either totally misinformed or he's not coming to the right conclusions."
O'Hara said he just wanted to introduce himself.
"I pride myself on being able to work with anybody," he said. The defense attorney "has a job to do, just like I do. It's not personal."
"Here . . . I want you to see some pictures . . ."