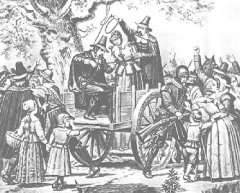 The hanging of Bridget Bishop in Salem in 1692
[The anonymous letter that follows was addressed "To the Honourable Cadwallader Colden Esq at New York." It was delivered to Elizabeth Colden DeLancey, Colden's daughter, in New York City sometime between July 15 and August 6, 1741. Elizabeth DeLancey forwarded the letter by express rider to her father, who was mightily displeased with its contents. The letter is the sole surviving contemporary criticism of the "Negro Plot" trials and reveals that there were those in 1741 who viewed slavey as wrong and blacks as the victims of oppression. In 2005, the author of the letter was discovered to be Josiah Cotton, a Plymouth, Massachusetts judge.]
Sr.,
I am a stranger to you and to New York, and so must beg pardon for the mistakes I may be guilty off in the subsequent attempt; The Design whereof is to endeavor the putting an end to the bloody Tragedy that has been, and I suppose still is acting amongst you in regard to the poor Negros and the Whites too. I observe in one of the Boston News letters dated July 13th that Negros were executed in one day at the Gallows, a favor indeed, for one next day was burnt at the stake, where he impeached several others, and amongst them some whites. Which with the former horrible executions among you upon this occasion puts me in mind of our New England Witchcraft in the year 1692 Which if I don't mistake New York justly reproached us for, and mocked at our Credulity about; but may it not now be justly retorted, mutato nomine de tefabula narratur. What grounds you proceed upon I must acknowledge myself not sufficiently informed of; but finding that these 5 who were put to Death in July denied any Guilt, It makes me suspect that your present case, and ours heretofore are much the same, and that Negro & Specter evidence will turn out alike. We had near 50 Confessors, who accused multitudes of others, alleging Time and Place, and Various other circumstances to render their Confessions credible, that they had their meetings, formed confederacies, signed the Devils book. But I am humbly of Opinion that such Confessions unless some certain Overt Act appears to confirm the same are not worth a Straw; for many times they are obtained by foul means, by force or torment, by Surprise, by flattery, by Distraction, by Discontent with their circumstances, through envy that they may bring others into the same condemnation, or in hopes of a longer time to live, or to die an easier death. For anybody would choose rather to be hanged than to be burnt. It is true I have heard something of your Forts being burnt, but that might be by Lightning from Heaven, by Accident, by some malicious person or persons of our own color. What other Feats have been performed to petrify your hearts against the poor blacks and some of your neighbors the whites, I can't tell; But 2 things seem impossible to me almost in rerum natura, That the whites should join with the Blacks, or that the Blacks (among whom there are no doubt some rational persons) should attempt the Destruction of a City when it is impossible they should escape the just and direful Vengeance of the Countries round about, which would immediately and unavoidably pour in upon them & destroy them Possibly there have been some murmuring amongst the Negroes and a mad fellow or 2 has threatened and designed Revenge, for the Cruelty & inhumanity they have met with, which is too rife in the English Plantations (& not long since occasioned such another tremendous and unreasonable Tragedy at Antego) And if that be all it is a pity there have been such severe animadversions. And if nothing will put an end hereto until some of higher degree and better circumstances and Characters are accused (which finished our Salem Witchcraft) the sooner the better, lest all the poor People of the Government perish in the merciless flames of an Imaginary Plot.
In the mean time excuse me and don't be offended, if out of Friendship to my poor Countrymen & compassion to the Negros (who are flesh & blood as well as we and ought to be treated with Humanity) I entreat you not to go on to Massacre and destroy your own Estates by making Bonfires of the Negros and perhaps thereby loading yourselves with greater Guilt than theirs. For we have too much reason to fear that the Divine Vengeance does and will pursue us for our ill treatment to the bodies and souls of our poor slaves and therefore
Let Justice be done to your own people, whatever Treatment the People of Massachusetts may meet with when you set in Judicature about their affairs, All which is humbly submitted by a Well wisher to all humane Beings and one that ever desires to be of the mercifull side &c.
[Source: Jill Lepore, New York Burning: Liberty, Slavery, and Conspiracy in Eighteenth-Century Manhattan (Vintage Books, 2005), pp. 203-205.]