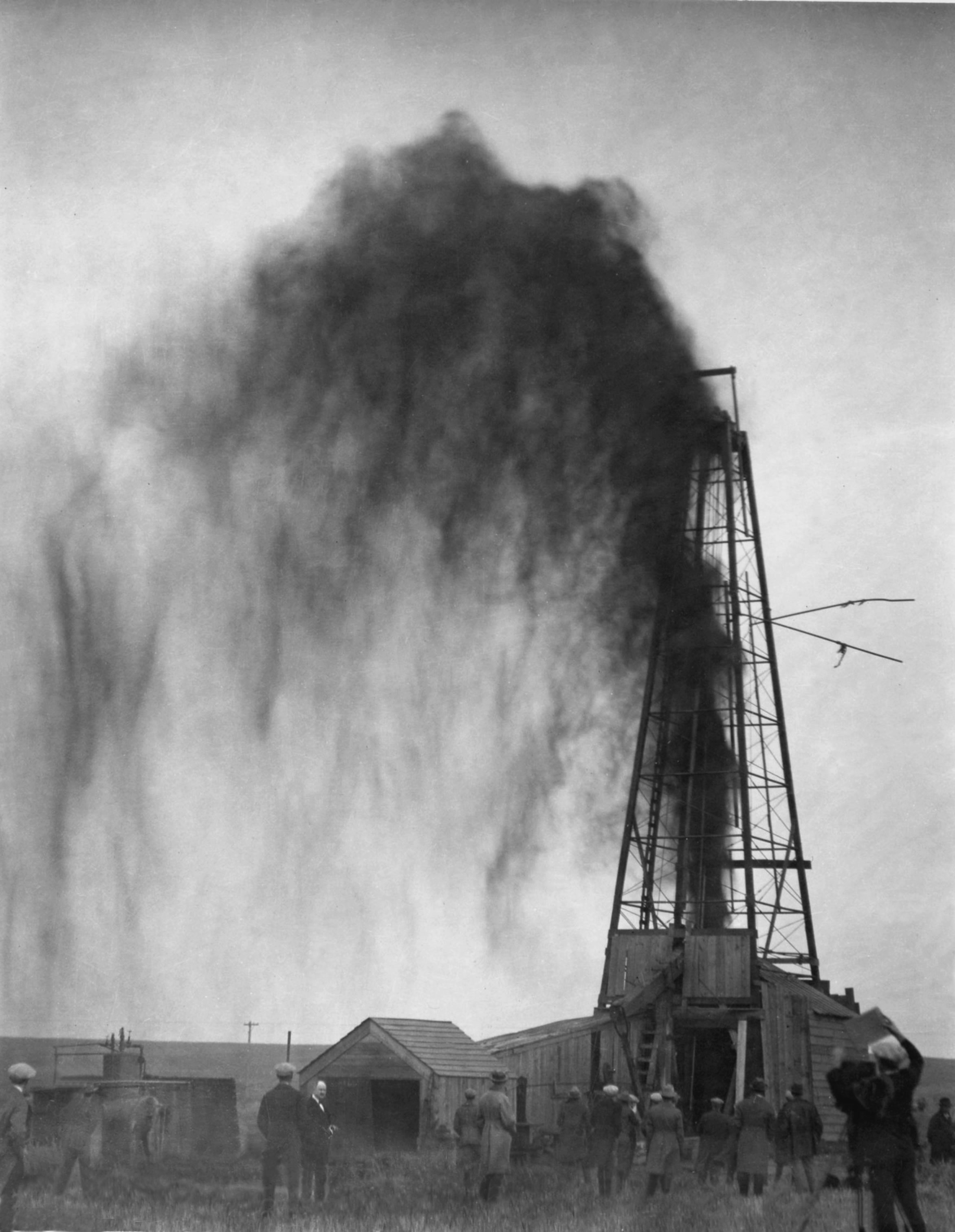 Oil well on the Osage reservation in the early 1920s
Early 1800s Over the course of two decades, the Osage are forced to cede about 100 mile acres of ancestral land between the Missouri and Arkansas Rivers and to live on a reservation in Kansas.
July 9, 1866 A reservation in northeastern Oklahoma is acquired by treaty ("the Cherokee Treaty") from the Cherokee.
1870 The Osage sell their Kansas lands for $1.25/acre to settlers.
Early 1870s The Osage are driven from their home in southeastern Kansas to the reservation in northeastern Oklahoma.
June 28, 1906 The Federal Government enacts the Osage Act which gives each of the 2,229 members of the tribe shares known as "head rights" for money received for the production of oil on reservation land.
1917 Mollie, a full-blooded Osage, marries Ernest Burkhart and becomes Mollie Burkhart.
1917 The Osage reservation is discovered to have some of the richest oil fields in the United States. An oil rush begins.
1918 Minnie, a sister of Mollie, dies at age 27 of what was called a "peculiar wasting disease" (but which might in fact have been the result of poisoning).
May 14, 1921 An Osage named Charles Whitehorn leaves his home and is never seen alive again.
May 22, 1921 Anna Brown, a sister of Mollie, is murdered.
May 27, 1921 The body of Anna Brown is discovered in a ravine just off the Pawhuska-Fairfax road. An autopsy shows the death to have been the result of a gun shot to the back of her head.
July 1921 Lizzie Q., Mollie's and Anna's mother, dies after a prolonged malady at the home of her daughter Mollie and her husband, Ernest Burkhart.
February 1922 William Stepson, a 29-year-old Osage, dies as the result of poisoning. In the months that follow, two other Osage die of suspected poisonings.
August 1922 Barney McBride, on a trip to Washington to urge a federal investigation of the Osage murders, is stabbed to death.
January 1923 Bodies of additional murdered Osage tribal members are found, including the bodies of Joe Greyhorse and Anna Sandford.
February 6, 1923 The body of Henry Roan, a full-blooded Osage, is found in the front seat of a car in a ravine. Hale had been shot in the head from the rear.
March 10, 1923 At 2:00 a.m., the home of Rita and W.E. ("Bill") Smith blows up. Rita and a white servant girl named Nettie Brookshire are killed instantly; Bill Smith dies a few days later.
March 11, 1923 Before he dies, Bill Smith says that "he has only two enemies in the world, and they are Bill Hale and Ernest Burkhart."
March 24, 1923 The Commissioner of Indian Affairs requests the aid of the Bureau of Investigation (an agency later called the FBI) in investigating murders on the Osage reservation.
June 14, 1923 Henry Grammer, who might have been able to provide incriminating evidence against W. K. Hale, dies in a car accident that might have resulted from tampered with brakes.
June 1923 Lawyer W. W. Vaughan, returning from an interview with George Bigheart in an Oklahoma City hospital (Bigheart revealed to Vaughan information about the Osage killings), is killed and thrown off a train.
Summer 1923 By now, over two dozen Osage have been murdered--the actual toll is probably significantly higher. Oil revenue for the the Osage in the year 1923 totals over $30 million.
July 1925 Tom White, appointed by J. Edgar Hoover to head the Osage murders investigation, takes over the Oklahoma City field office.
September 1925 Federal agents focus on how W. K. Hale came to be the beneficiary of Henry Roan's $25,000 life insurance policy.
Late 1925 Mollie Burkhart, a likely victim of poisoning, is hospitalized. She had been receiving insulin objection from two of the town doctors, the Shoun brothers, that probably contained poison.
January 4, 1926 Warrants are issued for the arrest of William Hale and Ernest Burkhart for murders of Bill and Rita Smith and their servant, Nettie Brookshire.
January 1926 Agents obtain statements from Blackie Thompson, who says that Burkhart and Hale asked him and a buddy (Curley Johnson) to kill Bill and Rita Smith. Thompson says they refused to do the job.
January 1926 Ernest Burkhart confesses. He says that Hale recruited Henry Grammer to find Asa Kirby to plan and execute the explosion at the Smith home.
January 1926 Burkhart identifies John Ramsey as the killer of Henry Roan and Kelsie Morrison as the killer of Anna Brown.
Jan. 6-7, 1926 John Ramsey confesses to coercing the murder of Roan and implicates himself in the murders of Bill and Rita Smith and their servant, but then repudiates his confession.
January 9, 1926 William K. Hale and John Ramsey are turned over to the Federal government for prosecution.
1926 Federal authorities decide to proceed first with charges for the murder of Roan, believing that his murder (unlike the others) was committed on Indian territory, thus allowing for federal court jurisdiction.
January 20, 1926 Ernest Burkhart tells authorities that he is sure Hale is trying to "bump him off."
January 1926 Hale hires a gunman to kill Katherine Cole, Kelsie Morrison's former wife, because she knew too much about the murders, but the gunman doesn't go through with it and tells authorities.
March 1, 1926 A federal district court judge rules that the Roan case could only proceed in state court. The federal government says it will appeal.
March 12, 1926 At the preliminary hearing in the Hale-Ramsey state court trial, prosecution witness Burkhart is allowed to meet with Hale's lawyers in the judge's chambers.
March 13, 1926 Ernest Burkhart refuses to testify for the state and instead testifies for the defense. He denies that Hale asked anyone to kill Roan.
March 17, 1926 Ernest Burkhart sues various federal agents, alleging his confession was coerced by putting a loaded revolver at his side and forcing him to sign.
March 18, 1926 State murder charges are filed against Ernest Burkhart.
May 18, 1926 Kelsie Morrison confesses to killing Anna Brown. The killing, he said, was arranged for and paid for by Hale and Byron Burkhart.
May 1926 At the state court trial of Ernest Burkhart, Hale testifies (falsely) that agents tried to get him to confess by "shoving a big gun in my face." Burkhart and Ramsey claim their confessions were similarly coerced.
June 1, 1926 The U.S. Supreme Court rules that the Hale-Ramsey case for the murder of Roan can proceed in federal court.
June 9, 1926 Ernest Burkhart withdraws his plea of not guilty and pleads guilty and says that, following the instructions of Hale and Ramsey, he had informed Asa Kirby it was time to blow up the Smith home.
June 21, 1926 Eernest Burkhart is sentenced to life imprisonment.
July 8, 1926 A federal grand jury in Guthrie, Oklahoma indicts Hale and Ramsey for the murder of Henry Roan.
July 26, 1926 The federal trial of Hale and Ramsey begins in Guthrie.
July 30, 1926 Ernest Burkhart testifies that Hale originally planned to kill Roan with poisoned moonshine (Hale's usual method of committing murder), not shoot him.
August 25, 1926 The jury in the Hale-Ramsey trial announces that it is unable to reach a verdict and a mistrial is declared.
October 1926 A grand jury indicts Hale's defense attorney, Jim Springer, and several witnesses for attempting to obstruct justice in the first Hale-Ramsey trial.
October 20, 1926 The second trial of Hale and Ramsey opens.
October 29, 1926 Hale and Ramsey are found guilty and sentenced to life imprisonment at Leavenworth.
April 1927 The jury is unable to reach a verdict in the state court trial of Bryan Burkhart for the murder of Anna Brown.
November 1927 Kelsey Morrison is tried and convicted in state court in Bartlesville for the murder of Anna Brown. Morrison is sentenced to life. Bryan Burkhart was given immunity and testifies for the prosecution.
1927 The 8th Circuit Court of Appeals rules that Hale and Ramsey were tried in the worng district court of Oklahoma and reverses their convictions.
1928 Mollie Burkhart, having divorced Bryan Burkhart, marries John Cobb.
Jan. 26, 1929 Hale is again convicted of murders, this time in the federal court for the Northern District of Oklahoma, and again sentenced to life imprisonment.
Nov. 20, 1929 John Ramsey is convicted for the murder of Henry Roan and sentenced to life in prison.
1937 Ernest Burkhart is paroled (but later returns to prison after committing a robbery).
1947 After serving 20 years at Leavenworth, William Hale is paroled at age 72.