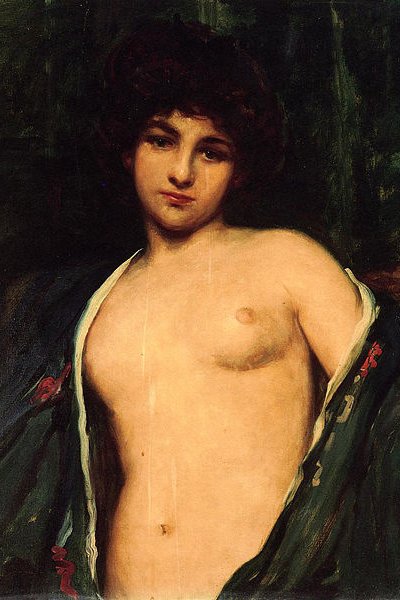 "Portrait of Evelyn Nesbit" (1901) by James Carroll Beckwith
Note concerning the red velvet swing:
After ascending two flights of stairs in Stanford White's W. 24th Street apartment, Stanford White led sixteen-year-old Evelyn Nesbit and a friend into a forest green room illuminated by concealed lighting. As Nesbit later described the room, the most eye-catching feature was "a gorgeous swing with red velvet ropes around which trailed green smilax, set high in the ceiling at one end of the studio." White said, "Let's put this little kid in the swing," and Evelyn jumped on enthusiastically. White pushed Evelyn until she swung so high she kicked a hole in a paper parasol that was hanging near the ceiling. Evelyn would ride the swing again many times, sometimes clothed, and sometimes not.
In her biography of Evelyn Nesbit, American Eve, Paula Uruburu offers this description (drawn from Nesbit's memoirs) of one night on the velvet swing: "At other times,...before having wild sex on one of the fashionable ferocious-looking tiger or lion rugs, Stanny would build a fire in the fireplace and throw something into it that sparked a temporary rainbow of shifting colors amid the rhythmically rising and falling flames. After his own flare of passion subsided, Stanny would put a now casually and shamelessly naked Evelyn in the red velvet swing, perhaps gloating about what a great private joke this was in light of Saint Anthony Comstock's limited imagination naive public approval [of his swing]. Stanny would watch excitedly while Evelyn flew, as if weightless, in the direction of his unlimited supply of colorful parchment parasols...The red-and-amber lick of the flames created a warming hypnotic effect as they moved with her and cast arabesque patterns on the slender arc of her back and the smooth white crescents pressing on the red velvet seat."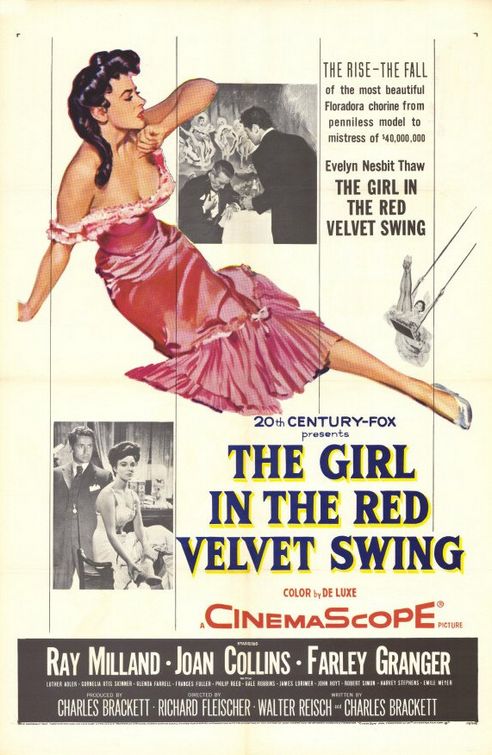 Poster for the 1955 movie "The Girl in the Red Velvet Swing."
Synopsis from All Movie Guide:
Evelyn Nesbit Thaw, the real-life personality so brilliantly (albeit briefly) portrayed by Elizabeth McGovern in Ragtime (1981), is given the full biopic treatment in 20th Century Fox's The Girl in the Red Velvet Swing. Since the real Mrs. Thaw served as technical advisor for the film, it isn't surprising that the controversial Evelyn comes across as being more sinned against that sinning. Joan Collins stars as Evelyn, the gorgeous chorine and original "Gibson Girl" who becomes the romantic bone of contention between ageing architect Stanford White (Ray Milland) and slightly unbalanced young millionaire Harry K. Thaw. Setting up Evelyn in a plush apartment, the lecherous White insists that she "perform" for him on the red velvet swing of the title (allegedly, Evelyn swung naked above the slavering White, though she's fully clothed in the film). Eventually, Thaw marries Evelyn, but cannot prevent White from continuing his romantic overtures. Things come to a head in 1906, on the roof of Madison Square Garden. As Evelyn sings and dances in a stage musical, the insanely jealous Thaw walks up to White, pulls out a pistol, and, in full view of the audience, pumps several bullets into the older man. Though Thaw manages to avoid the gallows by pleading insanity (he was eventually released), Evelyn's reputation is permanently besmirched, leaving her little choice but to capitalize upon her notoriety on the vaudeville stage (actually, Evelyn pursued a moderately successful film career before losing all her money to bad investments in the 1920s). By purifying the character of Evelyn Nesbit and thoroughly vilifying Stanford White, The Girl in the Red Velvet Swing is hardly 100 percent accurate; still, the film is immensely entertaining, thanks to the enthusiastic performances of the three stars.
~ Hal Erickson, All Movie Guide