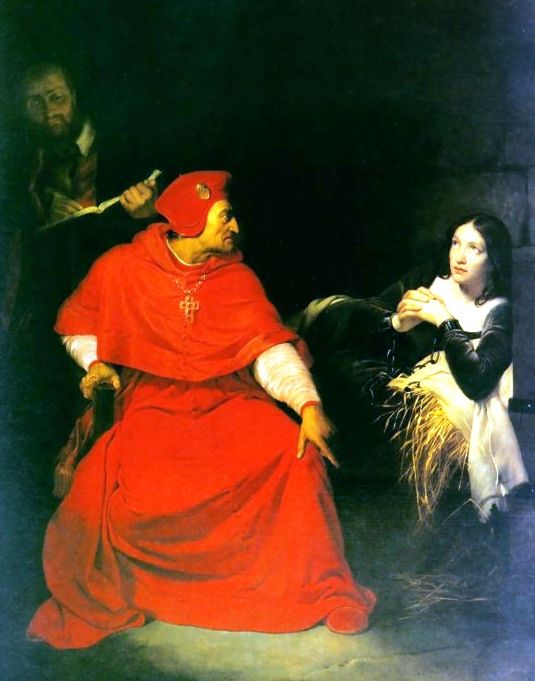 Bishop Pierre Cauchon interrogates Joan (painting by Paul Delaroche)
April 1337 The "Hundred Years' War" between the rulers of England and the rulers of France begins.
Jan. 6 1412 Joan is believed to have been born on this date in Domremy, Lorraine, France.
August 1415 The English invade Normandy, taking the port city of Harfleur.
October 1415 Henry V of England wins a key victory over the French in Normandy in the Battle of Agincourt. Many French noblemen die in the fighting and Charles, Duke of Orleans is taken prisoner by the English.
July 1416 King Henry and John the Fearless of Burgundy enter into a treaty in which they promise not to wage war against each other in the duke's northern territories.
January 1418 Burgundian troops take Rouen, capital of Normandy. Meanwhile, English forces take control of other parts of France.
May 1418 Burgundian forces take control of Paris. The dauphin Charles, the 15-year-old son of King Charles VI, is spirited out of Paris by Armagnac supporters.Bourges becomes the capital of Armagnac France.
January 1419 English forces take Rouen and move toward Paris.
Sept.10 1419 Armagnac supporters with the dauphin Charles murder the duke of Burgundy on a bridge at Montereau, ending hopes for an Armagnac-Burgundian alliance against the English.
May 21 1420 Duke Philip of Burgundy (seeing the English as the lesser evil) and the English enter into a treaty. Charles recognizes Henry King of England as the rightful heir to his throne.
Jan. 6 1421 The dauphin Charles is summoned to answer charges in Paris. He does not show up.
Aug. 31 1422 King Henry V dies.
Oct. 21 1422 King Charles VI dies. John the duke of Bedford is named regent of France on behalf of Henry's nine-month-old son.
1424 Joan first hears "voices" from God.
May 1428 Joan goes to Vaucouleurs to request Robert de Baudricourt take her to speak with Charles VII, but he refuses.
Fall 1428 The English begin their long siege of Orleans, the northernmost town on a curve of the river Loire, which formed the natural boundary between Armagnac France to the south and English/Burgundian controlled France to the north.
Jan. 1429 Joan again visits Vaulcoulers and this time Baudricourt agrees to provide Joan with an escort to see Charles.
March 1429 Joan speaks with Charles VII at Chinon. He has Joan examined by theologians to determine whether her visions should be believed.
Apr. 29 1429 Joan arrives at the sieged city of Orleans.
May 7-8 1429 Joan and her troops force the English to abandon their siege of Orleans.
June 18 1429 Joan's army defeats the English army at the Battle of Patay.
June 17 1429 The day after Joan and her army enter Reims, Charles VII is coronated at Reims Cathedral.
Sep. 8 1429 Joan's army attacks Paris and Joan is shot by an arrow and her troops withdraw.
May 23 1430 Joan is trapped and captured by Burgundian troops at Compiegne.
Nov. 1430 For a price, the Burgundians turn Joan over to the English.
Dec. 23 1430 Joan is brought to Rouen.
Jan. 9 1431 Joan's condemnation trial begins.
Feb. 21 1431 The first of six public examinations of Joan is held.
Mar. 3 1431 The last of the six public examinations of Joan is held. After a week, Joan is examined in her cell in a series of private examinations.
Mar. 26 1431 Trial in Ordinary begins with the reading of 70 articles of accusation and Joan's responses to each.
April 1431 Twelve articles of accusaation against Joan are drafted and then presented.
May 2 1431 In Rouen Castle's great hall, Joan is asked to submit to Church authority, but she refuses.
May 9 1431 Joan is shown instruments of torture and threatened if she does not confess, but she refuses.
May 23 1431 Joan is found guilty on each of the twelve articles of accusation.
May 24 1431 Joan is taken to an open space near an abbey in the center of Rouen where a scaffold had been erected. Joan announces that she is willing to sign a statement of abjuration, and she does so. She is taken back to her cell.
May 28 1431 Joan is declared a relapsed heretic after she is found in her cell wearing male dress.
May 30 1431 Joan is burned at the stake in a public square in Rouen.
Nov. 1449 French forces retake Rouen.
Feb. 13 1450 Charles VII issues a declaration authorizing an inquiry into Joan's trial of condemnation.
May 1452 Inquisitor-General Jean Brehal, after an investigation of Joan's case, recommends an appeal of the case.
Nov. 7 1455 In Notre-Dame Cathedral in Paris, the family of Joan petition for a revision of her sentence.
Dec. 12 1455 The "Nullification Trial" officially opens in Paris.
July 7 1456 The Nullification Trial concludes with a finding that Joan was wrongfully executed.
May 16 1920 Joan is canonized as a saint by Pope Benedict XV.