Video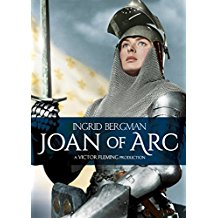 Joan of Arc (1948)(starring Ingrid Bergman).
Biography-- Joan of Arc: Virgin Warrior (2004 documentary).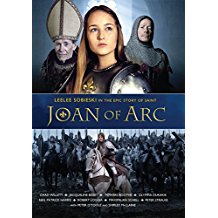 Joan of Arc (2016)(starring Leelee Sobieski).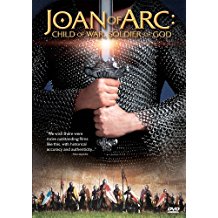 Joan of Arc: Child of War, Soldier of God (2006).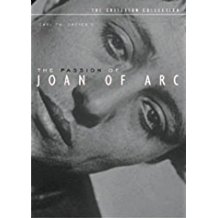 The Passion of Joan of Arc (1928)(starring Maria Falconetti).
Books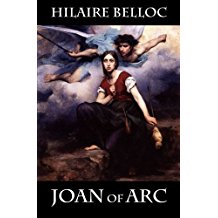 Belloc, Hillaire. Joan of Arc. (Cavalier, 2013)(76 pages).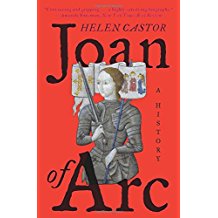 Castor, Helen. Joan of Arc: A History. (Harper, 2015),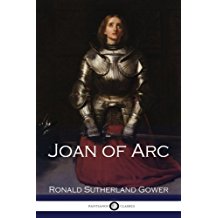 Gower, Ronald Sutherland. Joan of Arc. (CreateSpace, 2016).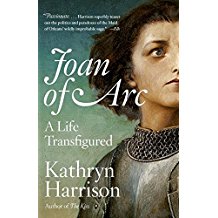 Harrison, Kathyrn. Joan of Arc: A Life Transfigured. (Anchor, 2015).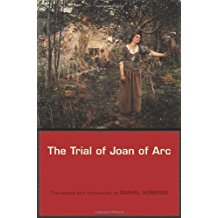 Hobbins, The Trial of Joan of Arc. (Harvard Press, 2007).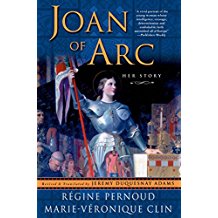 Pernoud, Regine and Clin, Marie Veronique. Joan of Arc: Her Story. (St. Martin's, 1999).
Stolpe, Sven. The Maid of New Orleans: The Life of Mysticism and Art. (Ignatius, 2014).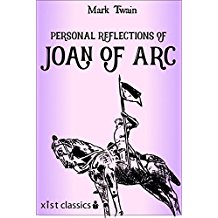 Twain, Mark. Personal Reflections of Joan of Arc. (1896, novel).
Internet (text by Lawrence McLachlan)

Saint Joan of Arc Center: http://www.stjoan-center.com/
This is a massive compilation of links to primary texts, books, plays, movies, artwork, notable quotes attributed to Joan, FAQs including the miracles accepted by the Vatican attributed to Joan.
Saint Joan of Arc's Trial of Condemnation: The 1903 English translation was updated into modern English usage by Mathias Gabel of Trebur Germany and Carlyn Iuzzolino.
http://www.stjoan-center.com/Trials/
Saint Joan of Arc's Trial of Nullification: It was not until nearly twenty years after the death of Jeanne d'Arc that any attempt was made by those in authority to vindicate her memory or even to acknowledge the services she had rendered to the kingdom of France. In 1450, however, after the occupation of Normandy and the submission of the town of Rouen, the idea appeared to have occurred to Charles VII. that to suffer the stigma of heresy and witchcraft to rest on the name of the Maid of Orleans, who had "led him to his anointing," was to throw a doubt upon his own orthodoxy, and to justify the taunt of his enemies that he had been the mere tool of "a lyme of the Fiend." On February 13th, 1450, therefore, he issued a Declaration empowering one of his Counselors, Guillaume Bouillé, to inquire into the conduct of the Trial undertaken against Jeanne by "our ancient enemies the English," who, "against reason, had cruelly put her to death," and to report the result of his investigations to the Council.
http://www.stjoan-center.com/Trials/index.html#nullification
Medieval Sourcebook: The Trial of Joan of Arc, 1431 : Joan of Arc is the most phenomenal and attractive personage of the Hundred Years' War on either side. Those whom she led to victory believed that she was inspired of God, and the English, not denying her inspiration, believed that it was of the devil. A full and authentic report of her trial remains, and from it is extracted the passage in which she answers questions relative to her Voices. She maintained that she raised the siege of Orleans in obedience to the divine call, and that all her important acts were prompted by a voice from heaven. Her trial for witchcraft at Rouen was conducted by Peter Cauchon, Bishop of Beauvais, to whom she had been handed over by the English for that purpose. She was little more than nineteen years old at the date of her execution. From: Charles W. Colby, ed., Selections from the Sources of English History, B.C. 55 - A.D. 1832 (London: Longmans, Green, 1920), pp. 113-117 http://www.fordham.edu/halsall/source/1431joantrial.html
Medieval Sourcebook: The Trial of Joan of Arc
THE TRIAL OF JEANNE D'ARC TRANSLATED INTO ENGLISH FROM THE ORIGINAL LATIN AND FRENCH DOCUMENTS BY W. P. BARRETT WITH AN ESSAY On the Trial of Jeanne d'Arc AND Dramatis Personae, BIOGRAPHICAL SKETCHES OF THE TRIAL JUDGES AND OTHER PERSONS INVOLVED IN THE MAID'S CAREER, TRIAL AND DEATH By PIERRE CHAMPION TRANSLATED FROM THE FRENCH BY COLEY TAYLOR AND RUTH H. KERR ILLUSTRATIONS BY FRANK P. RENNIE GOTHAM HOUSE, INC. 1932 http://www.fordham.edu/halsall/basis/joanofarc-trial.html
Joan of Arc: It was the morning of March 14, 1431. Joan of Arc, age 19, was standing trial for heresy. She had no lawyer. Her chief accuser - Pierre Cauchon - was also her judge. Cauchon, a Bishop of the Catholic Church, was a man whose strongest loyalties were to himself and to his own ambitions. After three weeks of cross examination, Cauchon had not broken Joan of Arc. With incredible courage, Joan warned her accuser to "take heed" that he "not judge [her] wrongfully." Cauchon threatened Joan with death by burning if she were found guilty of heresy, but Joan reminded him of eternal penalties if he continued to be unfair and biased in his responsibilities.What facts had brought this young woman to trial? On whose authority was she being tried without legal representation? What crimes could she have committed that resulted in a charge of heresy, among other things? To understand the trial, and the basis of the charges against Joan, we have to take a trip back to the Middle Ages. We have to examine what life was like back then. We have to understand who Joan of Arc was, and why her story still fascinates us centuries later. http://www.lawbuzz.com/justice/joanof_arc/joanof_arc.htm
Coat of Arms of Jeanne d'Arc: Jeanne d'Arc (Joan of Arc in English) was born in Domrémy (Lorraine) in 1412, daughter of Jacques d'Arc and Isabelle Romée (died 1458). She played a major (and somewhat mysterious) role in rallying the flagging forces of Charles VII against the English occupier in 1429, leading her troups to breaking the siege of Orléans and having Charles VII officially crowned king in Reims the same year. She was later captured and sold to the English, who burned her at the stake for heresy and perjury in 1431, in Rouen. Her case was officially reopened and the sentence annulled in 1456. http://www.heraldica.org/topics/france/jeannedarc.htm

Trial of Joan of Arc (painting by Frederick Rae)


THE TRIAL OF JOAN OF ARC, Being the verbatim report of the proceedings from the Orleans Manuscript, translated by W.S. Scott, 1956, Associated Book Sellers. The International Joan of Arc Societyπs on-line edition of the 1431 trial record is edited by Dr. Jane Marie Pinzino with permission of Royal Folio Society. See Associated Book Sellersπ original hardcover edition for Scottπs critical apparatus. http://smu.edu/ijas/1431trial.html

The Trial of Joan of Arc (translated and introduced by Daniel Hobbins)(Harvard Univ. Press)
No account is more critical to our understanding of Joan of Arc than the contemporary record of her trial in 1431. Convened at Rouen and directed by bishop Pierre Cauchon, the trial culminated in Joan's public execution for heresy. The trial record, which sometimes preserves Joan's very words, unveils her life, character, visions, and motives in fascinating detail. Here is one of our richest sources for the life of a medieval woman.
This new translation, the first in fifty years, is based on the full record of the trial proceedings in Latin. Recent scholarship dates this text to the year of the trial itself, thereby lending it a greater claim to authority than had traditionally been assumed. Contemporary documents copied into the trial furnish a guide to political developments in Joan's career—from her capture to the attempts to control public opinion following her execution. Daniel Hobbins sets the trial in its legal and historical context. In exploring Joan's place in fifteenth-century society, he suggests that her claims to divine revelation conformed to a recognizable profile of holy women in her culture, yet Joan broke this mold by embracing a military lifestyle. By combining the roles of visionary and of military leader, Joan astonished contemporaries and still fascinates us today. Obscured by the passing of centuries and distorted by the lens of modern cinema, the story of the historical Joan of Arc comes vividly to life once again. http://www.hup.harvard.edu/catalog/HOBTRI.html
Joan of Arc Archive: http://archive.joan-of-arc.org/ includes letters dictated by Joan http://archive.joan-of-arc.org/joanofarc_letters.html as well as other articles, book reviews, trial information andother links etc.
International Joan of Arc Society: http://smu.edu/ijas/pinzino.html includes a map, Joan in film and music, as well as other bibliographies and texts
Catholic Encyclopedia: Saint Joan of Arc http://www.newadvent.org/cathen/08409c.htm
The Fleur de Lis Symbol http://www.fleurdelis.com/fleur.htm
The Cross of Lorraine Symbol http://www.oradour.info/appendix/frefranc.htm
Maid of Heaven: All about Joan of Arc http://www.maidofheaven.com/
Hundred Years War Websites:
EHistory : The Hundred Years War http://ehistory.osu.edu/osu/archive/hundredyearswar.cfm?CFID=6822112&CFTOKEN=81885347&jsessionid=ea304631096f2ba25105619694b7b111f241
The Hundred Years War from the English Perspective: http://www.theotherside.co.uk/tm-heritage/background/100yearswar.htm http://www.middle-ages.org.uk/hundred-years-war.htm
Medieval Sourcebook on the Hundred Years War: http://www.fordham.edu/halsall/source/froissart1.html