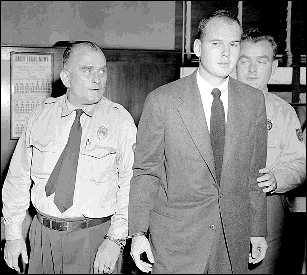 Sam Sheppard being escorted by deputies
July 3, 1954
In the evening, Sam and Marilyn Sheppard host a dinner for the Aherns, a neighborhood family. After dinner, the Sheppards and Aherns watch the movie Strange Holiday on television, with Marilyn sitting in Sam's lap. After a while, Sam moves to a daybed in the room, where he falls asleep. The Aherns say goodbye to Marilyn about midnight.
July 4, 1954
Sometime between 3:00 and 4:45 a.m., Marilyn Sheppard is brutally murdered in her bed. At 5:40 a.m., Sam Sheppard calls Spencer Houk, the mayor of Bay Village, Ohio. He tells his friend Spencer to "get over here quick! I think they've killed Marilyn!" By 6:02 a.m., the first police officers arrive on the scence and discover the body, a trail of blood, and evidence of an apparent robbery. At about 8:00 a.m., Coroner Sam Gerber arrives at the Sheppard home. He immediately suspects Sam as the murderer and conducts a crime scene investigation with that suspicion strongly in his mind. Sam Sheppard, complaining of head and neck injuries from his struggle with a "bushy-haired" intruder is taken to a hospital, where he is interrogated in the afternoon.
July 5, 1954
The Sheppard murder makes frontpage headlines in all the Cleveland papers. Lines of cars drive by the Sheppard home on the shore of Lake Erie. Sheppard is interviewed again by police and examined by a neurologist.
July 7, 1954
Funeral services are conducted for Marilyn Sheppard.
July 8, 1954
Sam Sheppard, without his attorney Bill Corrigan being present, is questioned in his hospital room by Cleveland detectives. He continues to insist he is innocent.
July 9, 1954
Sheppard agrees to return to his home and re-enact his account of the events of the early morning of July 4.... Editorials in Cleveland papers complain that the investigation is going too slowly....Cleveland detective Adelbert O'Hara interviews Richard Eberling, a 24-year-old man who washed windows at the Sheppard home.
July 10, 1954
Sheppard voluntarily appears at sheriff's headquarters, where he is questioned at length by detectives Robert Schottke and Patrick Gareau. He is asked whether he ever had an affair with lab technician Susan Hayes. Sheppard says that he and Hayes were nothing more than good friends.
July 21, 1954
The Cleveland Press, after a series of articles and editorials demanding quick action in the Sheppard case, publishes an editorial with the headline, "WHY NO INQUEST? DO IT NOW, DR. GERBER!" Later in the day, Coroner Gerber announces that he is calling an inquest that will begin the next day.
July 22, 1954
Coroner Gerber opens a three-day inquest into the Sheppard murder. The inquest is held in a Bay Village school gymnasium. The gymnasium is packed in the afternoon when Sheppard testifies. Gerber bars Sheppard's attorney, William Corrigan, from advising Sam on questions, and Corrigan is forced to watch from the stands.
July 23, 1954
The inquest continues. Sheppard again denies having an affair with Susan Hayes. Gerber orders Sheppard's attorney to be forcibly removed from the gymnasium when he tries to get something into the record. This same day, Cleveland police formally take over the investigation from Bay Village police.
July 24, 1954
Questioned by police in California, Susan Hayes admits to having an affair with Sam Sheppard.
July 30, 1954
The Cleveland Press headlines a story, "WHY ISN'T SAM SHEPPARD IN JAIL?" At 10:30 in the evening, Sheppard is arrested at the home of his parents.
July 31-August 2, 1954
Sheppard is grilled for nine hours by two teams of detectives on July 31. Over the next two days, he is questioned for thirteen more hours. He still refuses to admit guilt.
August 16, 1954
Sheppard appears at a preliminary hearing. He is released on $50,000 bail. At the same time, a grand jury is meeting to consider the case. Mayor Houk tells the grand jury that Marilyn called Sam "a Jekyll and a Hyde." Other witnesses testify about the crime scene investigation or Sheppard's womanizing.
August 17, 1954
A grand jury returns a first-degree murder indictment against Sheppard and he is re-arrested.
October 18, 1954
The Sheppard trial opens in Cleveland before Judge Edward Blythin. The trial is covered by such celebrity journalists as Walter Winchell and Dorothy Kilgallen (a regular on the popular television quiz show, "What's My Line?"). Jury selection begins.
October 19, 1954
Judge Blythin denies defense motions to move the trial out of Cleveland and delay the trial until publicity about the case dies down.
October 28, 1954
The Sheppard jury is sworn in. The names and photos of jurors are printed in newspapers.
November 3, 1954
The jury (along with Sheppard, handcuffed to a deputy) visits the Sheppard home in Bay Village.
November 4, 1954
Prosecutor John Mahon and defense attorney Frank Garmone give opening statements. The prosecution calls its first witness.
November 16, 1954
Coroner Sam Gerber is called as a prosecution witness in the Sheppard trial. Gerber suggests that the bloody imprint found on Marilyn's pillow was that of "a surgical instrument."
December 2, 1954
The defense begins its case in the Sheppard trial. Sam's brother, Dr. Steve Sheppard, is called as the first defense witness.
December 9, 1954
Sam Sheppard testifies. He describes his encounter on the night of the murder with a man who had "a good-sized head--with a bushy appearance at the top of his head."
December 16, 1954
Prosecutors and defense attorney Bill Corrigan present closing arguments.
December 17, 1954
The jury in the Sheppard trial begins its deliberations.
December 21, 1954
The jury returns a verdict: guilty of murder in the second degree. Sam Sheppard tells the judge, "I'd like to say, sir, I am not guilty...." Jurors report that their decision was influenced by Sheppard's delay in reporting the crime, the apparent removal of blood from the crime scene, the failure of Sheppard's dog to bark, and Sheppard's extramarital affairs.
January 7, 1955
Ethel Sheppard, Sam's mother, commits suicide. From jail, Sheppard releases a statement: "Today my mother...took her life as a result of American injustice."
January 18, 1955
Dr. Richard Sheppard, Sam's father, dies of cancer.
January 22, 1955
Dr. Paul Kirk, a nationally famous California criminalist, arrives in Cleveland at Bill Corrigan's request to conduct for the defense a thorough investigation of the crime scene.
April 1955
Dr. Kirk finishes his 19-page report on the Sheppard murder. He concludes that the murderer was left-handed and probably used a flashlight. He finds evidence of blood in Marilyn's room that neither belonged to Marilyn or Sam. He finds Sam Sheppard's version of events plausible and concludes that the murderer probably hated the Sheppards. Partly on the basis of Kirk's report, Corrigan files a motion for a new trial.
July 13, 1955
The Eighth District Ohio Court of Appeals affirms the denial of Sheppard's motion for a new trial.
July 1955
Sheppard is transferred to a maximum security prison near Columbus....A swimmer who lives next to the Sheppard home finds a dented flashlight in shallow water in Lake Erie.
1956
The Ohio Supreme Court affirms Sheppard's conviction....Cleveland Press publisher Louis Seltzer published his autobiography, The Years Were Good.
November 1959
Richard Eberling, a man who washed windows at the Sheppard home, is arrested for larceny. A search of Eberling's home turns up, among many other stolen items, a cocktail ring owned by Marilyn Sheppard. Asked by police why is blood was found in the Sheppard home after the murder (this was a stab in the dark; police had found no such evidence), Eberling says he cut himself a few days before the murder and dripped blood throughout the Sheppard house. He is given a polygraph test, but the results are inconclusive.
July 1961
Sheppard's defense lawyer, William Corrigan dies. The job of defending Sheppard will eventually fall to F. Lee Bailey.
August 1961
The Sheppard Murder Case, by Chicago reporter Paul Holmes, is published. The book argues that Sam Sheppard was not the murderer of Marilyn.
February 1963
The Ohio Parole Board denies Sheppard's request for parole....Sheppard is transferred to "the Hole" (a tiny cell with horrid conditions) for insulting the Ohio director of prisons after the director kept referred to Sheppard's new German girlfriend, Ariane Tebbenjohanns, as "that blonde."
April 13, 1963
F. Lee Bailey files a petition for habeas corpus in federal court. In the petition, Bailey argues, among other things, that prejudicial publicity in the trial violated Sheppard's right to due process.
September 1963
"The Fugitive," a television show assumed by most people to be based loosely on the Sheppard case (although the creator later suggests otherwise), begins a successful run.
February 1964
Former coroner Sam Gerber, in a letter to Ohio's Attorney General William Saxbe, suggests that Governor Rhodes should pardon Sheppard.
March 1964
At a press club dinner, Dorothy Kilgallen reveals that before the Sheppard trial, the trial judge (Edward Blythin, had told her that Sheppard "was guilty as hell."
July 15-16, 1964
Judge Weinman tosses out Sheppard's conviction on constitutional grounds, calling his trial "a mockery of justice." Sheppard is released from prison on a $10,000 bond. Sam makes plans to marry Ariane Tebbenjohanns.
October 8, 1964
The Sixth Circuit Court of Appeals in Cleveland hears the state's appeal of Judge Weinman's decision throwing out Sheppard's conviction.
March 4, 1965
On a 2 to 1 vote, the Sixth Circuit reverses Judge Weinman's decision throwing out Sheppard's conviction, although Sheppard is allowed to remain free on bail pending his appeal to the Supreme Court.
November 1965
The United Supreme Court agrees to hear the Sheppard case.
February 28, 1966
Oral arguments are heard by the Supreme Court. Bailey argues the case for Sheppard, while the state is represented by Ohio Attorney General William Saxbe.
June 6, 1966
On an 8 to 1 vote, the Supreme Court reverses Sheppard's murder conviction on due process grounds. The Court pointed to "virulent publicity" that might have affected the jury's verdict.
June 8, 1966
Prosecutors announce that they will retry Sam Sheppard for the murder of his wife Marilyn.
October 24, 1966
Sam Sheppard's second trial begins.
November 10, 1966
The defense calls its first witness, a man who delivered bread to the Sheppard home, as its first witness. (Sam Sheppard will not take the stand.)
November 16, 1966
The jury finds Sam Sheppard "Not Guilty" in his re-trial.
August 27, 1967
The last episode of "The Fugitive" is watched by a record number of television viewers.
December 1968
Sam Sheppard and Ariane Tebbenjohanns divorce.
1969
Sam Sheppard becomes a professional wrestler working under the name of "Killer" Sheppard. He marries his third wife, Colleen Strickland.
April 6, 1970
Sam Sheppard dies of liver failure at the age of 46.
1987
Former coroner Sam Gerber dies.
1989
Richard Eberling, Sheppard's former window washer, is convicted of aggravated murder in connection with the death of an elderly widow, Ethel May Durkin.
1992
Cleveland releases police records and evidence relating to the murder of Marilyn Sheppard.
August 1993
The movie, The Fugitive (starring Harrison Ford), is released, reviving interest in the Sheppard case.
1995

Mockery of Justice

, by Cynthia Cooper and Sam Reese Sheppard, is published. The book argues that Sheppard was innocent and Richard Eberling was the actual murderer.
October 1995
Sam Reese Sheppard, Sam's son, files a wrongful imprisonment action. A formal declaration of Sheppard's innocence is requested.
February 1996
Richard Eberling is ordered to provide a blood sample for DNA testing.
June 1997
Sam Reese Sheppard's civil suit on behalf of his father for wrongful imprisonment is set for trial over the objections of attorneys for the county.
September 1997
Sam Sheppard's body is exhumed for DNA testing.
July 25, 1998
Richard Eberling dies in prison at the age of 68.
December 2, 1998
The Ohio Supreme Court denies a request by the Cuyahoga County prosecutor to dismiss the wrongful imprisonment case.
October 1999
Marilyn Sheppard's body is exhumed for forensics testing.
April 2000
After an eight-week trial in Sam Reese Sheppard's wrongful imprisonment, a jury in the civil suit finds in favor of Cuyahoga County's favor.
2001
James Neff's book on the Sheppard Case, The Wrong Man, argues--despite the finding of the civil jury in Sam Reese Sheppard's wrongful imprisonment suit--that Richard Eberling killed Marilyn Sheppard.
2003
A new book by Jack DeSario and William Mason, Dr. Sam Sheppard on Trial, primarily focused on the wrongful imprisonment suit, argues that the 1954 jury got it right: Sam Sheppard murdered his wife Marilyn.